*New Book Release (May 2010):

↓



Chasing the Lion:
An Unresolved Journey
Through the Phillips Exeter Academy

About The Book

Table of Contents

Excerpts

Testimonials



Purchase CHASING THE LION Here: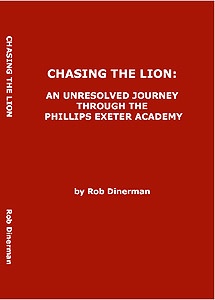 ↓

*Favorites from the Squash Archives:

The Khan Family Dynasty

Greatest Rivalries

A History of Squash at Exeter

Tom Page Obituary

History of the Grand Masters Tour

The Libby Pei Project

History of the North American Open Doubles

New Documentary on The Great Hashim Khan


CURRENT DINERMAN SQUASH NEWS REPORTS:

Mudge And Gould Clinch Undefeated 2010-11 Campaign
By Rob Dinerman
Dateline April 27th ---

The 11th annual Players Championship, held as always in Long Island and New York and this year representing the last ranking tournament on the 2010-11 ISDA tour, constituted a microcosm of many of the most salient themes of the season. Clive Leach and Matt Jenson emerged from the draw's bottom half for the fourth time (previously at the Big Apple Open, Boston and the North American Open), a figure twice that of any other tandem, and thereby established themselves as the No. 2 ISDA team behind Damien Mudge and Ben Gould. Chris Walker and Mark Chaloner, finalists this past winter in the U. S. Pro Championship and the David Johnson Memorial Invitational, reached the semifinals and have not lost to any team other than Mudge/Gould since January while compiling a record that includes a five-game quarterfinal win in Brooklyn against Jenson/Leach in the only time these two teams played each other all season.
The third quadrant of the 16-team draw was filled with not only upsets but DECISIVE upsets --- third seeds John Russell and Preston Quick, undefeated prior to the semis all season, lost three games to love in the round-of-16 to Greg McArthur and James Stout (a last-minute entry when McArthur's regular partner Dan Roberts suffered a severe hamstring pull in the run-up to the event), who then won their quarterfinal over Steve Scharff and Imran Khan, unexpected first-round winners themselves at the expense of Jonny Smith and Raj Nanda. These results continued a season-long phenomenon in which qualifying teams, underdog teams and first-time partners flourished to a degree rarely seen before in ISDA competition.
But the most noteworthy and compelling aspect of the Players Championship, and indeed of the entire season, was the inevitable advance to the winner's circle, in this case as in several others without dropping a single game, of Mudge and Gould, who finished off a clean 11 for 11 sweep of the full-ranking stops on this year's ISDA circuit, the first time than a team has accomplished this feat in the six years since Mudge and Gary Waite did so for the third and final time (also 1999-2000 and 2001-02) during the 2004-05 season. After extricating themselves from the peril of a 1-2, 11-14 predicament and saving those four match-balls-against in their St. Louis semifinal match on October 30th, Mudge and Gould never looked back (and never faced another fifth game), dispatching all contenders (six different final-round opponents in the first six tour stops) en route to a 34-0 slate, and running away from their most persistent pursuers, Jenson and Leach, in the Players Championship final with a telltale score of 15-12, 8 and 5. Seven of the eight final-round games that Mudge and Gould played --- the last two games of the Cleveland final over Jenson and Willie Hosey, all three games of the Brooklyn final against Walker/Chaloner and, as noted, the second and third games of the Players Championship final --- were single-figure tallies, as The Champs consistently played their highest-level squash against their highest-level competition, generating an energy zone of constant pressure, both offensive and defensive, that inexorably (and often swiftly) melted the reserves and resolve of even the best doubles teams in the world.
Mudge and Gould will have both the opportunity and the obligation to prove that latter fact early next month in Toronto at the World Doubles Championships, a biennial prestigious tourney that requires teams to be composed of players from the same country. Though non-ranking due to this eligibility element of the team format, it is considered an extremely important event, and a loss by the Aussies Gould (a defending champion by virtue of his win with Paul Price the last time it was held two years ago in San Francisco) and Mudge would at the very least cause an asterisk to be appended to their "undefeated" status for 2010-11. The British-born duo of Leach and Russell, runners-up in two years ago and the only partners in this upcoming event who were also partners in '09, should be a formidable opponent for Mudge/Gould, as should Australians Jenson and Price and reigning Canadian National Doubles champs Hosey and Michael Pirnak.


Mudge And Gould Capture Players Championship
By Rob Dinerman


Dateline April 21st ----

In an overwhelming display of firepower and athleticism, top seeds Damien Mudge and Ben Gould rampaged through the field in the 10th annual Players Championship this past weekend, displaying a brutal efficiency (four matches, the minimum 12 games) that culminated in a Monday-night final at the University Club of New York with a compelling 15-12, 8 and 5 tally over their valiant but out-classed opponents Matt Jenson and Clive Leach. Mudge and Gould, fierce rivals for the three prior years before their summer 2010 decision to partner up, thereby completed an undefeated (34-0) wire-to-wire 2010-11 ISDA campaign in which they swept all 11 full-ranking tournaments, in the process leaving little doubt of their status as the best team in the history of professional doubles squash.
This was the first time that an ISDA team has gone undefeated over the course of an entire season since 2004-05, when Mudge and Gary Waite accomplished this feat for the third (also 1999-2000 and 2001-02) and final time. Gould, a Players Championship winner with Paul Price in 2009 and 2010 (beating Mudge/Viktor Berg and John Russell/Preston Quick in those respective finals), thus earned this title for the third straight year, while Mudge, who played the right wall during his years with Waite before moving over to the left when Waite retired a few years ago, became the only player in ISDA history to have an undefeated season playing each wall.
The dominance with which Mudge and Gould surged through the draw (including their quarterfinal with Willie Hosey and Hamed Anvari and their semi against Wilmington and Brooklyn runners-up Chris Walker and Mark Chaloner, 3-2 quarterfinal winners over Yvain Badan and Joe Pentland) should not obscure either what Leach and Jenson accomplished in achieving their fourth final this season (no other team besides Mudge/Gould had more than two) or the several unexpected outcomes that transformed the draw's third quadrant into a veritable no-man's-land of upsets that were even more surprising for the peremptory fashion in which they occurred. Third seeds Russell and Quick, who had never been stopped short of the semis all season, were eliminated, in straight sets no less, in the round of 16 by first-time-ever partners Greg McArthur and James Stout, who then defeated Imran Khan and Steve Scharff (first-round 3-0 upset winners themselves at the expense of Jonny Smith and Raj Nanda) to reach the semis. Stout, who successfully defended his World Rackets title this past autumn, had not even entered the Players Championship, and was only summoned to step in when McArthur's regular partner, Dan Roberts, incurred a severe hamstring injury earlier this month while playing in the final of a singles tournament in Boston.
While these disorderly doings were evolving in the quadrant above theirs, second seeds Jenson and Leach, finalists this past fall/winter in New York, Boston and Greenwich, were out-playing first former Trinity teammates Jacques Swanepoel and Shaun Johnstone and then Greg Park and James Hewitt, first-round winners over the Canadian pair of Ian Power and Will Mariani. Leach and Jenson have had a few missteps along the way to compiling their otherwise stellar 2010-11 season --- they were first-round knockouts both in St. Louis, where they were caught off guard by Manek Mathur and Badan, and in Brooklyn, where Leach sagged in the last two games of their 3-2 loss to Walker and Chaloner ---- but they were fully engaged and effective in the four-game semifinal that both put an end to the Stout/McArthur Cinderella story and clinched the No. 2 2010-11 end-of-season team ranking for Leach and Jenson.
It must be said of the latter tandem that they performed at a praiseworthy level in their Mudge/Gould final as well, which started nearly an hour later than expected due to the length of both the men's hardball single final (played on an international-sized court, with Walker edging out Quick, 15-12 in the fifth) and the WDSA women's doubles final, in which Narelle Krizek and Suzie Pierrepont avenged their Turner Cup final-round loss in December with a five-game victory over Natalie Grainger and Amanda Sobhy. Once the men's final did begin, Leach and Jenson determinedly stood their ground in the face of the constant heat directed their way and nearly matched their opponents' torrid pace in the white-hot cauldron of this seasonably warm April evening, where the low-ceilinged host venue rendered effective lobbing near-impossible and where violent all-court exchanges defined the high-octane action. That they nevertheless lost in three games, only the first of which was competitive on the scoreboard, was totally due to the absolute brilliance that characterized the Mudge/Gould output all night --- indeed, all SEASON --- and sent an intimidating message of how daunting a task awaits any team that aspires to conquer them going forward.
The pressure that they put on an opposing team is intense and unrelenting --- and it is even greater defensively than it is offensively. They both can blast the ball off either flank, but perhaps the scariest part of their game is their court coverage, which puts any opponent who has what would qualify against any other team as a good shot-making opportunity in the unenviable position of knowing that he will have to go for broke, risk hitting the tin --- and that even if he executes the shot perfectly the ball will STILL be retrieved, as likely as not with some real action behind it that will reverse the hard-won positional advantage and put Mudge and Gould back in control of the point. Eventually, and inevitably, the attritional effects of having to deal with what Mudge and Gould continuously threw at them took a toll, as first Jenson and then Leach surrendered a few tins, especially in a 10-1 Mudge/Gould run from 10-7 in the second game to 5-0 in the third.
Now fully in command, Mudge and Gould raced exuberantly away, with Gould firing off several spectacular on-the-run forehand reverse-corner winners as he and Mudge blazed triumphantly across the finish line. These Australian superstars will be prohibitive favorites three weeks hence in the biennial World Doubles in Toronto, where teams are required to be composed of players from the same country, and where the British-born Leach will team up with Russell while Jenson will be matched with his Aussie compatriot Price.

Krizek And Pierrepont Capture Players Championship
By Rob Dinerman

Dateline April 21st ---

Deadlocked at 5-all in the fifth game of a titanic struggle for supremacy against a top-seeded opponent that had thrashed them in the same University Club Of New York venue the last time these two teams had met four months ago, second seeds Narelle Krizek and Suzie Pierrepont engineered a stunningly dramatic 10-0 match-closing run that clinched a 15-10 17-18 15-8 9-15 15-5 victory over top seeds Natalie Grainger and Amanda Sobhy this past Monday night in the final round of the Players Championship. In so doing, Krizek and Pierrepont successfully defended their 2010 Players Championship title, spectacularly avenged their straight-set early-December loss to Sobhy/Grainger in the Turner Cup final and reclaimed, at least for now, their standing as the top team on the WDSA women's pro doubles tour.
In that Turner Cup match four months back, Krizek and Pierrepont, undefeated to that point after wins in the Turner Cup, U. S. National Doubles, Players Championship and Canadian Pro events in 2009-10, had led Sobhy and Grainger 14-9 in the first game, only to surrender an eight-point game-ending rally that catapulted their first-time-partnering opponents to a 17-14 15-9 15-10 victory. This time it was Krizek and Pierrepont who closed out the opening frame with a no-nonsense three-point flurry that carried through the first four points of the second as well. Some daring shot-making by Grainger got that game to 7-all, after which neither team was able to acquire more than a one-point advantage all the grinding way through a harrowing best-of-nine tiebreaker that wasn't decided until, on simultaneous-game-point, Grainger nursed an inside-out backhand drop shot from the back wall that gently --- and barely --- cleared the tin and nicked on the front-left for a clean winner that evened the match at a game apiece.
However, Krizek and Pierrepont showed a resiliency in the face of this potentially deflating turn of events that had been absent under similar circumstances in the Turner Cup and was perhaps borne of their rally one day earlier in the face of the two games to one deficit they had survived in their semifinal against Meredeth Quick (who had been shooting exceptionally well) and Steph Hewitt, who had fallen just short in the 15-12 fourth game before Pierrepont/Krizek made off with an anticlimactic 15-7 fifth. Grainger and Sobhy, by contrast, had had a far easier time of it in their straight-game semi over Emily Lungstrum and Dana Betts, winners of a three-team qualifier draw. It had been an action-packed weekend for everyone involved, especially for Sobhy, the first American woman ever to win the World Junior Singles championship, who had flown home on Saturday evening from Dallas, where she had played in a WISPA pro women's singles tournament, and for Krizek, who earlier in the weekend had been in Baltimore for her induction into the Maryland Squash Hall Of Fame.
Notwithstanding the Players Championship multi-front backdrop, Pierrepont and Krizek responded to that one-point second-game loss by moving from 7-6 to 14-6 in the third, a game-clinching surge that was promptly counterbalanced when Grainger and Sobhy jumped out to an 8-2 lead that effectively sealed the outcome of that game as well. By the time the fifth game began, the packed gallery was buzzing with anticipation, and when the first 10 points were evenly divided (with Grainger contributing four drop-shot winners to her team's cause), with the teams to that point, 80 minutes in, having played each other to an absolute statistical and territorial standstill, there was every reason to expect that game to seesaw in hair-raising point-for-point fashion all the way to the very end, just as the second game had done.
Instead, and with a compelling swiftness that belied the lengthy exchanges that had heretofore characterized the action, Pierrepont and Krizek proceeded with merciless efficiency to seize complete control in winning all 10 remaining points. A tightly-angled Pierrepont backhand reverse-corner winner (after a Krizek lob had forced a backpedaling Sobhy to the deep-left) was followed by a Sobhy forehand roll-corner that caught the top of the tin, after which a nick-finding Krizek forehand three-wall preceded two Pierrepont winners, the first a cross-drop and the second a volley straight drop that put her team ahead 10-5. Krizek then nursed a forehand cross-drop winner for 11-5 and a rattled-appearing Sobhy tinned a drop shot. The disarray that by this time had taken possession of the Sobhy/Grainger tandem was best symbolized by what occurred on the ensuing 12-5 point, when after a prolonged all-court series of exchanges, Grainger, with an open ball at the back wall and seeing that both of her opponents were stuck at their respective side walls, lashed a blast down the middle of the court which went only five feet before hitting the back of her partner Sobhy's head with a resounding thwack that elicited a horrified gasp from the spectators as the ball caromed nearly over the back wall.
After a brief stoppage to assure that the precocious but beleaguered Harvard-bound teenager was all right, play resumed, but only long enough for Pierrepont to hit a pair of consecutive backhand straight-drop winners that made official what by then had become a foregone conclusion. This match was preceded by a men's open hardball final (played on an international-sized court), in which 2001 British Open finalist Chris Walker edged out reigning U. S. National Hardball champion Preston Quick, 15-12 in the fifth, and would be succeeded by the Players Championship men's final, in which Damien Mudge and Ben Gould would complete an undefeated 2010-11 ISDA season by rising superior to Clive Leach and Matt Jenson in a highly-competitive though straight-set clash between the tour's top two teams. All in all a memorable evening of squash at the University Club, with the WDSA final clearly the highlight in terms of drama and entertainment value.
The next event on the women's pro doubles schedule is the biennial Harrow Sports World Doubles May 6-9 in Toronto, followed one week later by the season-ending Crescent Capital LA Open, which will be held at the Jonathan Club in Los Angeles.
Lemmons, Poors, Spahrs and Parkhursts Win U. S. Father & Son Titles
By Rob Dinerman


Dateline April 18th ---

Staving off a gallant comeback bid by a former championship-winning opponent, Geordie Lemmon and his son B. G. conjured up a match-ending six-point spurt to emerge victorious in the Open division of the seventh annual U. S. Father & Son Doubles tournament, held as always in mid-town Manhattan. Their 15-10 15-9 11-15 15-8 final-round triumph over Scott and Will Simonton made the Lemmons the first team ever to win the 17-and-under flight one year and the Open draw the next, while also representing the second national doubles championship in the past few weeks for the younger Lemmon, a high-school junior, who last month combined with Andrew McGuinness to capture the U. S. National Junior Doubles in Wilmington.
The top-seeded Simontons, who won this event in 2006 and were runners-up to Greg Park, a current top-12 on the ISDA pro doubles tour, and his father Steve in 2008 and 2009, recovered from their two-game deficit by pressuring the younger Lemmon into some late-game errors at the end of the third game and in moving from 0-5 and 4-9 to 8-9 in the fourth, on the strength of powerful forehand cross-courts from the left-handed Will and semi-lobs up the right wall by his father, a mid-1970's standout at Bowdoin who pulled off a tightly-angled forehand reverse-corner to get his team to within one point at 8-9. But at this stage, with the momentum on the verge of swinging permanently in his opponents' favor, B. G. Lemmon came up with a series of early-point winners --- an on-the-run forehand roll-corner, an overhead that dead-nicked in the front-left nick, another cross-court too low and shallow for Will Simonton to react --- and Geordie Lemmon, 21 years removed from the U. S. National Doubles title that he and Dave Proctor won in 1990, pulled off the shot of the match when he roamed deep into the back-right and fired a forehand three-wall nick, creating a match-ball that the Lemmons converted when, after a long all-court exchange, Scott Simonton tinned a forehand volley.
This was a match that the Simontons might well have won had they carried their mid-fourth-game rally a few points further, but that ultimately was decided in large measure by the experience and racquet-work that Geordie Lemmon still possesses, which stabilized his team's attack and contributed winning shots exactly when they were needed the most. Both teams had advanced in straight sets in their respective semifinals, with the Lemmons out-playing Simon Aldrich and his son Dillon while the Simontons were doing the same against their Wilmington co-denizens Bob Bolling and his son Hunter.
This Open final was directly proceeded by what was by a large margin the most dramatic contest of the weekend, a back-and-forth battle in the Century division pitting many-times (with many different partners) U. S. National Doubles Open finalist Tom Poor and son Morgan against the 2010 Century champs Jack Wyant Sr. and his son Jack Jr., a former mid-1990's Princeton captain who is currently the men's and women's varsity coach at Penn. These two teams actually played twice in less than 20 hours, since the Century competition was set up as a three-team round-robin with the two top finishers slated to meet head-to-head in the final. The Poors won the round-robin match in three games, rallying from 11-14 down in the second to 17-14 and then racing through the 15-5 third. But it was clear from the start of the more important next-day rematch that the overnight adjustment that the Wyants decided upon --- with the younger Wyant covering the deep left behind his father, who would play further up in the court than he had done the day before --- was a wise one, as witness their 15-10 tally in the first game.
The Poors responded by winning the second and seizing seemingly decisive 9-2 and 12-6 advantages in the third, only to drop seven straight points (three of them on unreturned beautifully placed lob serves) and see that game dissolve through their fingers by a count of 15-13. Again the Poors surged well ahead in the fourth game (11-7), again the Wyants beat them to 13 and won the first point of a "no-set" call, getting them to double-championship-point. Jack Wyant Jr. had been scoring frequently with backhand roll-corners and three-walls and at 14-13 he nailed another three-wall virtually into the front-right nick. This time Morgan Poor was --- barely --- able to scrape it back into play, seemingly a sitting duck given his position less than five feet from the front wall as the younger Wyant pounced upon the open ball and drilled a blast right at his waist. Remarkably, the younger Poor was able to reflex-volley both that shot and a second one back into play, whereupon Wyant tinned his next swing and vocally (and unsuccessfully) lobbied for the referee to rule that his three-wall had bounced a second time before the diving Morgan Poor had steered it back into play.
After surviving that game when on the ensuing 14-all point Morgan Poor hit a narrow cross-court that the senior Wyant was unable to fend off, the Poors again jumped out to a substantial lead (6-2 and later 9-6) in the fifth and, for the third straight game, the Wyants moved past them at 10-9. Morgan Poor had committed several tins in his team's mid-game slide, but he nailed a forehand volley that just cleared the tin to even the score at 10-all. The final quintet of points, all of which landed in the Poor column, went swiftly: a Morgan Poor shallow forehand cross-court winner, two Wyant tins, the second when Jack Sr. hit a serve-return over the front-wall boundary, and finally a pair of Tom Poor front-court winners, the first a tidy forehand cross-drop into the front-left nick and the second a mis-hit intended backhand reverse-corner that instead found a front-right nick to conclude an exciting 75 minutes of undulating and entertaining action.
The two younger age-group competitions went in more routine fashion, with Chris Spahr, the longtime head pro at the University Club Of Boston, and his precocious son Carson winning the 17-and-under flight with an overtime-in-the-third final-round win over Brian Walsh and his son Michael, while in the 15-and-under final, Charlie Parkhurst, the No. 1 player at the Princeton Club of New York in the MSRA hardball leagues of the early-1990's, and his son Henry prevalied over Alan Ripka and his son Mason in four well-played games. The Spahrs, winners the three prior years in the 13-and-under division, would have been age-eligible to again enter the 13's draw (in which Ray Pepi and his son William won in three over Harry Curtis and son Samuel) but chose instead to skip over the 15's event and compete in the 17's, as mentioned, which makes their advance to the winner's circle all the more remarkable. Thirty teams in total participated in this year's tournament, which was sponsored by Harrow, ably directed for the second straight year by Racquet & Tennis Club pro Jason Hicks and co-chaired, as has been the case since the event's inception in 2005, by Simon Aldrich and Morris Clothier.



A Tribute To The Fordham Coaching Career Of Bob Hawthorn
By Rob Dinerman
PROLOGUE: This article was written during the summer of 2010 at the invitation of a number of Coach Bob Hawthorn's former Fordham players, the expectation being that it would be presented to him at a surprise party that they were planning to have in his honor sometime this spring, possibly in conjunction with his 80th birthday in May. Regretfully, Mr. Hawthorn passed away in early March without ever being aware of these plans or of the existence of this tribute to his long and illustrious coaching career at Fordham.
--- Rob Dinerman,

March 31st, 2011
When Robert W. "Bob" Hawthorn stepped down as Fordham squash and tennis coach in July 2010 after 54 years of dedicated and decorated service, the Bronx campus a few miles north of Yankee Stadium lost one of its truly iconic and legendary figures. In addition to being the first three-time (1974, 1984 and 1985) winner of the "Iron Major" Award as Fordham's top coach, he had by far the longest tenure of any coach in the history of intercollegiate squash (Jack Barnaby, who led Harvard throughout the 44-year period from 1932-76, had the second-longest career), or of any coach in any sport at Fordham, the Jesuit University whose most famous athletic alumnus was Vince Lombardi, the Green Bay Packer football coach who won five NFL Championships, after whom the athletic center that houses Fordham's squash courts is named. Like Lombardi, a member during his student days of an offensive line known as the "Seven Blocks Of Granite," Hawthorn was a standout athlete (on the squash and tennis teams) as a Fordham collegian (class of 1953); like Lombardi, Hawthorn was inducted (in 1977) into Fordham's Sports Hall Of Fame; and like Lombardi as well, Hawthorn had a sports center on campus named in his honor, in his case when the Hawthorn/Rooney Tennis Center, co-honoring the late John Rooney '24, the longtime coach of the Fordham's women's tennis team, was dedicated on April 28, 1993.
Its attractive red-brick clubhouse and gleaming array of six blue-paint-surfaced tennis courts stand in marked contrast to the nondescript clay courts on the Rose Hill campus when Hawthorn entered as a freshman 51 years ago in the fall of 1949; so do the spanking-new quartet of international-size squash courts that were converted (from five hardball courts) just this past summer, two of which have a glass side-wall and all of which afford enhanced viewing capacity in what constitutes a squash player's paradise just yards from the impressive basketball arena where the Rams take on their Atlantic Ten conference rivals. From Fordham squash's inaugural 1947-48 season, when Joseph Haggerty started a squash program, and for the 19 years that followed, there were no squash courts at all on campus. The Reverend Vincent C. Hopkins S.J., the team's "first moderator" and a teacher at Fordham's graduate and law schools, arranged for the team members to be transported to the New York Athletic Club (NYAC), at the south-west foot of Central Park on 59th Street in Manhattan, where practice sessions were held from 3:30 to 5:00 on weekdays and on Saturday mornings.
When Hawthorn, who was by then teaching mathematics at Fordham Prep, took over the squash coaching responsibilities at age 25 in November 1956 (he would begin as tennis coach two years later), he continued using the NYAC, where he himself was a club member, as the team's practice base, with the blessing and support of that club's longtime head pro Tom Byrne. Undeterred by the lack of any official "home" courts, Hawthorn promptly took the initiative in arranging a series of away trips to Wesleyan and Navy, as well as scheduling matches with teams in the metropolitan area such as Stevens Tech, Stony Brook, Yale, Army, Wagner, Adelphi, Princeton and Seton Hall. In 1979, with the pressure on the NYAC courts starting to build as the sport as a whole entered perhaps its period of greatest growth, Hawthorn was able to negotiate the use of the four courts at the Dunwoodie Center at St. Joseph's Seminary in nearby Yonkers, driving the team to afternoon practice and then returning the team members to campus by 6:00.
The use of the St. Joseph's facility occurred while the Lombardi Center was being constructed (in the wake of the latter's death in 1970), and Hawthorn was able to ensure the inclusion of the five squash courts, personally raising more than $25,000 towards their construction and creating a much more convenient situation both for the team members (who now had access to squash courts on their own campus and without having to travel by car or subway, and who now could play some "home" matches) and for himself, since his three main places of business, i.e. the Lombardi Center, the tennis arena and Fordham Prep, where Hawthorn taught in the mornings and into the early afternoons before tending to his racquet-sports responsibilities at Fordham University, were all within less than one hundred yards of each other.
It was during this same period in the early 1970's that some of Fordham's best squash teams and most renowned players began to emerge and blossom. Larry Hilbert '72, an outstanding tennis player at Fordham Prep whom Coach Hawthorn recruited to play at Fordham, with his coach's encouragement tried squash during the winter, benefiting from the latter's expertise (Hawthorn, still in his late 30's during Hilbert's freshman year, had by that time risen to the "A" level in the demanding New York metropolitan leagues, playing for the NYAC team, and was able to beat most of the Fordham varsity players right up until he reached his early 50's) and attaining all-American status as a squash player, while also improving his tennis game (where he alternated at the No. 1 position with his classmate Tom Porter) to the point where he played on the satellite pro tennis circuit for several years after graduation.
Indeed, Hilbert's experience was virtually universal among Hawthorn's playing group in the sense that very few of what would become the members of his squash team had played the sport prior to their arrival on the Rose Hill campus; most of them were tennis players whom Hawthorn first persuaded to give squash a look and then made the (sometimes reluctant) "first try" so enjoyable and captivating an experience that the collegian became hooked on squash. This created a circumstance in which there was a significant overlap between the squash and tennis teams, with the players consequently forming a bond with each other, as well as with their coach, that markedly enhanced team solidarity and made Hawthorn teams in BOTH sports into a truly unified entity when they faced their intercollegiate opponents.
PROMINENT RAM RACQUETEERS
Hilbert would eventually reach the top 10 in the World Pro Squash Association (WPSA) rankings while filling the head squash/tennis pro positions first at the Apawamis Club in Rye, then at the University Club of New York and currently at the Piping Rock Club in Locust Valley, Long Island. His ongoing support for the Fordham program would take several different forms, ranging from inviting the varsity to come and practice at Apawamis and later Piping Rock with his pro staff and with some of the better-playing members, to a long time span during which he would make sure that at least one of his assistant pros was a current or recent Fordham team member; Greg Reiss '81, who served in that capacity at Apawamis on a part-time basis as a student and for a few full-time years after graduation, noted that whichever Fordham alum held that position was expected to "pass it on" to a fellow Fordham grad when he moved on to his next career stop.
Reiss is one of a large number of Hawthorn disciples who have gone on to follow in his footsteps by creating full-time careers for themselves for extended time periods in the racquet sports. Hilbert was soon followed in by Bill Andruss '75, who entered Fordham as a sophomore; became the only player in the history of the school to reach the final round of the U. S. Intercollegiate Individual championships his senior year; and became the head pro at the Field Club of Greenwich in the late 1970's, attaining a world ranking of No. 32 and a top-10 WPSA ranking while serving as team captain of the U. S. squad that finished seventh in the World Team Championships in 1981, the best result that the U. S. has ever achieved. There was a period of several years in the early 1980's when both Hilbert and Andruss were in the WPSA top-10, making Fordham (whose varsity was the seventh-ranking team in the American intercollegiate arena at right around the same time) the only college with more than one of its alumni in the WPSA top-10 in that time frame, during which the sport was largely dominated by members of the Khan clan or products of the great Canadian junior programs.
In addition to Hilbert and Andruss, Bill Ramsay '82 earned six U. S. Mixed Doubles titles with his older sister Gail, winning both this crown (for the last time) and the Men's National Doubles with Rich Sheppard in 1991, and he has been the head pro at the New Haven Lawn Club before being based more recently at the Fairmount Club in suburban Philadelphia. Tomas Fortson '84, a finalist in the '88 Metropolitan Open and several times the Massachusetts State Champion, has been the coach at Bowdoin College for the past decade after an earlier stint at the Allston Club in Boston and then at Groton, the Massachusetts prep school. Tim Chisholm '91 has won the U. S. Open Singles and Doubles championships in court tennis multiple times and even qualified for the right to challenge perennial title-holder Rob Fahey for the world championship during the mid-2000's (he is currently the head pro at Tuxedo Park).
Chisholm's early 1990's teammate Andrew Cordova '93 has for the past decade been the head pro at the Maryland Club in downtown Baltimore, in which capacity he runs what is considered one of the top squash programs of any club in the country and serves as Tournament Chairman for the Maryland Club Open, a major annual stop on the International Squash Doubles Association (ISDA) pro tour, on which he himself has been ranked in the top 25. Chris O'Connor '93, Cordova's classmate, a finalist in the 5.0 Skill Level Nationals this past spring, became an assistant pro first for Hilbert at Apawamis and then under J. D. Cregan, who succeeded Hilbert at the University Club when the latter moved on to Piping Rock. Dan Sleasman '93, Cordova's co-captain, became an assistant pro at Racquet & Tennis and then at Apawamis and is currently very involved in squash in Albany, where he grew up.
John Cerga '97, one of (as noted) numerous Fordham Ram racquets torch-bearers to have worked under Hilbert (others include Chisholm, Reiss, O'Connor, Dan Driscoll '79 and Bob Hawthorn Jr. '83, one of Coach Hawthorn's seven children, all of them Fordham graduates) and used that time to jump-start their careers in racquet sports, is the head pro at the Garden City Country Club in Long Island, as is Alex Bancila '99 at the Cherry Valley Club also in Garden City. Eddie Kapur '95 is the head squash pro at Sports Club/LA in midtown Manhattan, which has hosted the prestigious Quentin Hyder Invitational for the past half-dozen years, with Kapur serving as Tournament Chairman for this massive event. Ed Sarasola '82, one of the few exceptions to the "converted tennis player" model (others were Ramsay, Fortson, Cordova and Tim Thomas '92), recorded perhaps the most noteworthy dual-meet win in Fordham history when he knocked off Princeton's John Nimick shortly before Nimick won first the Intercollegiate crown in 1981 and then the U.S. Nationals one year later en route to eventual induction into the U. S. Squash Hall Of Fame.
Neil Tarangioli '77, a fierce competitor during his college years, runs a well respected tennis program at Concordia College. And Jim McNamara '79 is currently a highly ranked age-group tennis player, having been inducted in 1989 into the Fordham Hall Of Fame, a distinction he shares among Hawthorn products with Hilbert (in 1979), Andruss (in '82), and Lawrence Brown '59 (in 2000). Andruss was also the recipient of the Lombardi Award as Fordham's Male Athlete Of The Year in 1975, as was Ramsay in 1981 and Guy Gebbia '96 in 1995.
Because such an overwhelming percentage of his squash teams were composed of talented racquet athletes who however had never played squash prior to the arrival at Fordham, Hawthorn would initially emphasize getting good depth on the ball and relentless retrieving, delaying the "finesse" and shot-making parts of the game until his charges had first mastered the basics. The reputation that Hilbert and Andruss both deservedly acquired on the WPSA tour for their solid all-around play, for their competitiveness and staying power, and for their invulnerability to "bad losses" to players below them, were natural outgrowths of the Hawthorn approach, which caused the afternoon sessions he ran to be mostly oriented towards practice matches and challenge matches among the team members in order to give his players as much actual game exposure as possible – repetitive drills and off-court running were not a very prominent part of the team's practices. He would spend part of the time playing against different team members and the rest roaming from the galleries of one court to another, sometimes shouting instructions down when he saw a mechanical or shot-selection mistake, and often entering a court himself for a hands-on demonstration of how he wanted his protégés to execute a certain shot.
AWARDS AND REWARDS
His teams were also known throughout the college ranks for clean play and good sportsmanship, but also for never giving up and competing full-bore right to the final point. Hawthorn's induction in the spring of 2006 (marking his "golden-anniversary" 50th year at the helm of Fordham squash) into the College Squash Association's Hall Of Fame is a compelling tribute to the esteem and respect with which his coaching colleagues regard him --- so was the naming of the Hawthorn Division as part of the annual end-of-season college team championships, as well as the number of his fellow college squash coaches who attended a celebratory 50th anniversary dinner that Fordham held in one of its main ballrooms that May, which drew a huge turnout among his former squash and tennis players, hundreds of whom traveled to the Rose Hill campus to honor their life-long mentor.
Many of those alumni also show up each autumn to play in the "Hopkins Invitational," an annual squash and tennis tournament named in honor of the squash team's first moderator and effectively constituting a massive and festive reunion of the players who have been coached over the years in those two racquet sports by Hawthorn, who just this past spring was the 2010 recipient of the Jack Coffey Award presented "to a Fordham administrator, alumnus or coach for outstanding contributions and dedication to the athletic program." This designation had to have been especially meaningful to Hawthorn since it is named after the legendary Fordham athletic director who hired him more than a half-century ago.
In addition to carrying a full teaching load at Fordham Prep and to coaching two varsity sports at Fordham University, Hawthorn became a registered nurse in 1988, serving in that capacity for nearly 20 years by working on weekends and during the summer months at nearby Calvary Hospital and Rosary Hill. He also started and conscientiously oversaw a program in which Fordham Prep students would volunteer their time helping out at these two metropolitan-area hospitals, both of which treat terminally ill cancer patients. This latter undertaking was fully in keeping with Hawthorn's life-long devotion to the "helping" professions.
So too was the full cooperation he provided when Citysquash, the Bronx-based youth-enrichment organization that utilizes squash as the "hook" to provide educational opportunities for under-privileged inner-city youth, approached him about the possibility of using Fordham's five hardball courts for their youngsters to practice on. Impressed with Citysquash's mission, Hawthorn immediately granted permission (a kind of full-circle payback for the NYAC and St. Joseph's courts that his own teams had been allowed to play on decades earlier), and Fordham is now reaping the reward for Hawthorn's generosity, since Citysquash is funding the conversion into four international-courts in what has become a mutually highly beneficial relationship for both entities.
The most mutually beneficial relationships of all for Hawthorn (who lives with his wife Eileen in New Rochelle, NY), of course, are the hundreds he has developed with his legion of former players, who marvel at how he continues to "bleed Fordham maroon" (to quote one of his former captains) and who have nothing but praise for the continuing manner in which he has enriched their lives. Reiss, who after his years as Hilbert's assistant forged a successful career as a salesman for Head and then Dunlop before assuming his current position as the squash coach at Milbrook Academy in upstate New York and as the head pro at the club on weekends, said unequivocally that he "owes it all to Bob," a sentiment that is heartily echoed by dozens of his former Ram disciples.
Andruss fondly recalled the road trips in Hawthorn's station wagon to places like Lancaster and Williamstown, where "the banter was lively and Bob's sarcastic wit was always on display." He also remembered the practice sessions at Dunwoodie, which "came to mean hours together with players helping each other – a habit he instilled in all of us"; Hawthorn's emphasis on "respect, fair play, gentlemanly behavior and hard work, all the while cognizant of the fact that we represented Fordham"; and the day he was playing No. 1 in an away match at Army, glancing up at the gallery and seeing his coach, "the lone civilian among 75 cadets screaming their lungs out, giving me a little smile that conveyed his message to me that 'we may be out-numbered but I'm behind you all the way.' "
Andruss, currently a realtor with Sotheby's International Realty in Greenwich, may have best summarized the enduring impact that his beloved coach (who will turn 80 years old this coming May) has had when he recalled a kick-off dinner that Andruss's parents hosted for the team prior to his senior (1974-75) season. "I can still see Bob saying grace as all nine of us sat around the dining room table. We were his second family, we were his team of young men, and we looked up to him. Years later, I look back and I know that he was our mentor, a natural teacher, and it was clear that he cared. He embraced us and he never let go of us."


Tierney And Lifford Capture 2011 U. S. Century Squash Doubles Championship
By Rob Dinerman


Dateline

March 3rd ---

Forced to fend off six match-balls-against in their quarterfinal and to rally from a 2-0, 10-7 deficit several hours later in the semis, third seeds Sandy Tierney and Doug Lifford of the University Club of Boston survived all those Saturday predicaments and made those rallies stick with a 15-7, 10 and 12 final-round victory over defending champs Jeff Stanley and Gordy Anderson to win the fifth annual U. S. Century Doubles Championship, hosted as always by the University Club of New York in mid-town Manhattan. A record 87 teams competed in five categories in a weekend replete with a slew of eleventh-hour rallies, route-going finals and the continuation of a remarkable phenomenon that has already emerged in this tournament's year-to-year evolution, namely the noteworthy degree to which the Open champion one year winds up getting to – but never through --- the following year's final.
After teaming with Todd Binns to win this event in 2007, Anderson and Ned Edwards dropped the '08 final to Morris Clothier and Mike Pierce, who then lost the '09 final to Edwards and Rich Sheppard, who would be edged out (15-13 in the fifth) in the final a year ago to Anderson and Stanley, who, as noted, fell to Tierney and Lifford this past Sunday afternoon. Both 2011 final-round tandems were taken right to the very brink in their respective quarterfinals --- Anders Wahlstedt and Jamie Heldring led Tierney/Lifford 14-11 (and later 2-0, set-three) in the fifth game, while Charlie Parkhurst and Gregg Finn held an even more imposing 2-1, 14-9 advantage over Stanley/Anderson --- and both semis went the full distance as well, with the defending champs pulling away in the fifth game after surrendering the third and fourth to John Nimick and Andrew Slater, while Bill Ullman and John Gross, after toppling second seeds Kip Gould and Eric Vlcek in the quarters, were up 2-0, 10-7 before Tierney and Lifford rescued that 18-16 game and eventually went from 9-all to 15-10 in the fifth. As so often happens when both teams have endured such harrowing pre-final challenges (particularly in a "Century" type of environment), one of them is depleted by the time the final rolls around, and on this occasion neither Stanley nor the 60-something Anderson, who had been so heroic in the crunch-time stages of the 2010 final, had enough energy to repulse what Lifford and especially Tierney (whose reverse-corner was on fire all weekend) were able to throw at them.
In the other competitive brackets, Tim Loat and his Canadian compatriot David Bogert accepted a mid-match Grand Masters final-round default win over Michael Puertas and George Fowler when Puertas strained a leg muscle, though, remarkably, the latter was able to recover in time to play his A final a few hours later and to partner Clark Amos to a five-game win over Ken Kaufman and Doug Virtue, who saved a match-ball-against situation to win the third game 15-14 and the fourth 15-8 before Puertas/Amos came away with a 15-10 fifth game. In the Legends draw, Scott Stoneburgh, who 15 years earlier had teamed up with Wahlstedt to win the 1996 North American Open, the most coveted title on the pro doubles tour, asserted himself in his and fellow Canadian Tony Ross's 3-0 final-round victory over Ryan O'Connell and Ken Leung of the host club. Tom Harrity and Sara Luther were favored (and seeded) to win the Mixed Doubles flight, but second seeds Gould and Karen Jerome came away with a pair of mid-match tiebreaker games and rode Jerome's accurate straight-drop winners in the fifth to engineer a well-deserved 13-15 18-15 17-15 11-15 15-11 visit to the winners circle.
The extraordinary turnout, featuring 34 entries from the host club but also including substantial representation from Canada and all sectors of the United States, constitutes a compelling tribute to both the degree and celerity with which the Century "concept" has already "hooked" the North American doubles squash community in just five short years, and the zeal with which Kit Tatum, the highly popular protagonist who has served as Tournament Chair of this event from its inception, has recruited its participants. The 2011 version was even more successful, in terms of both entry count and the level of play, than any of its predecessors, which can only augur well for 2012 and beyond. The tournament has become both a highlight of the doubles season in its own right and an important stepping-stone to the Canadian National Doubles in Montreal this coming weekend and the U. S. National Doubles in Chicago later this month.

Ashour Sweeps To J. P. Morgan Tournament Of Champions Title

By Rob Dinerman

Dateline

January 27th, 2011

--- In an overwhelming display of creative shot-making and athleticism, top seed Ramy Ashour took the measure of World No. 1 Nick Matthew with an 11-3 7-11 11-9 11-7 tally Thursday evening in the final round of the J. P. Morgan Tournament Of Champions before a packed crowd in the Vanderbilt Hall section of Grand Central Station in mid-town Manhattan. A frustrated finalist here in 2010 after being soundly out-played by an inspired James Willstrop, the 23-year-old Egyptian star avenged that latter outcome in a straight-set semi and fully asserted himself throughout the second half of the final to erase the disappointment of a year ago and notch this praiseworthy companion piece to his 2008 Tournament Of Champions title run.
Unlike Ashour, who had dropped only 19 total points in his Tuesday-evening semifinal, Matthew had been pressed all the way to 12-10 in the fifth (after losing a fourth-set tiebreaker) in his balancing semi with Amr Shabana, which may have at least in part accounted for his somewhat sluggish opening-game output, in which Ashour burst to 7-1 and confidently moved through the remainder of that game. But when he tinned a forehand straight-drop on the opening point of the second game (Ashour's first tin of the match, and the first of five errors that he would commit during that second game), Matthew seized this small opening, playing the entire game with enhanced energy and urgency, nicking a few forehand cross-drops (including the one that he slashed into the front-left nick to finish off the game), benefiting, as noted, by his opponent's miscues and showing the return of the legendary work ethic that has always defined his relentless style of play and made him the reigning British Open champion.
The third game was noticeably more intense and streak-filled that its predecessors, as each player knew that control of the remainder of the match likely hinged on that game's outcome. Trailing 4-2 early on, Matthew surged to 5-4, aided by some top-of-the-tins of the type of wickedly-angled front-court shots that Ashour had previously been successfully converting. But the latter emphatically terminated this mini-slump by cracking a forehand volley directly into a front-left nick, then moved to 9-6, 10-7 with an offensive burst that appeared to seal the game. Matthew, however, scored on a pair of well-placed drop shots, setting up what everyone knew would be a climactic 9-10 point. Knowing how hard Matthew is to close out at the end of an airtight crucial game, Ashour boldly, and successful, produced a tin-defying backhand straight-drop with Matthew fenced in on his right, a clear winner from which his clearly deflated British opponent would never fully recover.
As had been the case in the third game, Ashour broke away (in this instance, from 4-3 to 9-4) in the fourth, again leaving Matthew in the position of having to play from well behind, facing a daunting road to hoe with virtually no margin for error, all this while (understandably in light of his grueling semifinal battle) having had just enough of the edge shaved off his usually formidable energy supply to deprive him of the adrenaline that is needed to sustain the severe pace and offensive arsenal that marks Ashour's game. In falling behind by that 9-4 count, Matthew was caught wrong-footed several times and tinned some attempts that had a bit of a desperate feel to them. He was able to nick a forehand cross-drop for 5-9, ceded an untouchable Ashour backhand overhead (10-5), then scored first on a backhand straight-drop and then when Ashour was properly assessed a stroke call on a backhand length that he hit right back at himself to narrow the score to 7-10.
Had the following point also landed in Matthew's column, it might have induced some nervousness on Ashour's part, but any prospect of a riveting eleventh-hour comeback were brought to a swift halt when Ashour's forehand serve-return down the line clung closely enough to the right wall to prevent Mathew from steering it back into play, a somewhat anti-climactic ending to what was nonetheless a pulsating performance on the part of both PSA superstars and a moment of redemption for the victorious Ashour that was made even sweeter by the presence in the gallery of his mother, who was watching her younger son play a major match in a significant championship for the first time in five years.



Sobhy And Grainger Capture 2010 Turner Cup

By Rob Dinerman


Dateline

December 14th, 2010

--- Trailing 14-9 in the first game, a score that doesn't fully reflect the degree to which they had been out-played throughout that 23-point match-opening span by the to that point never-defeated top-seeded defending-champion opponents, Amanda Sobhy and Natalie Grainger conjured up an out-of-the-blue eight-point game-ending run, then made that reversal stick through the remainder of their stunning 17-14 15-9 15-10 victory against Suzie Pierrepont and Narelle Krizek Monday night in the final round of the $50,000 2010 Turner Cup at the University Club of New York. The outcome marked both a memorable WDSA debut of the 17-year-old Sobhy, the current World Junior Singles champion, and the triumphant return to WDSA competition for Grainger, who had not participated in a pro women's doubles tour event since she and Jessica DiMauro dominated the WDSA tour in its inaugural 2007-08 season. It also culminated a wonderful run through the largest, strongest and (by far) best remunerated draw in the history of women's doubles on this continent for the unseeded Sobhy/Grainger duo that included a four-game quarterfinal over fourth seeds Marci Sier and Natarsha McElhinny (Krizek's older sister) and a three-game semis win over No. 2 seeds Meredeth Quick (who partnered Kip Gould to the Mixed Pro-Am title, defeating '09 winners Krizek and Chris Oberbeck in the final) and Steph Hewitt, who had never in their five-tournament partnership previously lost prior to the finals.
There was plenty of pre-final drama throughout the weekend (most notably the quarterfinal fifth-game rally from 5-11 and 12-14 to 17-15 by Alicia McConnell and Stephanie Edmison against Dana Betts and Emily Lungstrum before McConnell/Edmison then fell 3-0 to Pierrepont and Krizek), but in the opening stages of the final, Pierrepont and Krizek, winners of all four events they entered in 2009-10, including a 15-6, 11 and 6 thrashing of Quick/Hewitt in last year's Turner Cup final, seemed in complete control as they moved with ruthless aplomb to leads of 8-2, 12-8 and 14-9. The doubles-inexperienced Sobhy was being consistently maneuvered out of position and then victimized by her canny opponents and was constantly well behind her much-taller left-wall opponent Pierrepont, while Grainger was having trouble making an impact on the play. But at 9-14, she successfully went for broke on a tin-defying reverse-corner and when Sobhy then nailed a forehand cross-court that Krizek couldn't fight off and Pierrepont followed with a tin (12-14 now), she and Krizek both betrayed some nerves in the closing patch that ensued. A nick-finding Grainger three-wall that Pierrepont never saw forced the best-of-five tiebreaker, the first two points of which were won by a suddenly-confident Sobhy, who first hit a rail that Pierrepont couldn't handle and then nursed a straight-drop winner off an over-hit Krizek three-wall, following which the latter tinned the kind of low forehand drive on which she usually scores so many of her winners.
Another 8-0 run in the second, this one a mid-game spurt that moved the score from 4-3 to 12-3, accounted for that game, as Krizek and Pierrepont, still clearly feeling the effects of the way the first game had ended, veered more and more away from the errorless efficiency of positioning and execution that has heretofore defined their game, committing unforced or semi-forced miscues (possibly influenced by their awareness of how many would-be winners were being returned by their opponents' mobility), misjudging the trajectory of several lobs that became winners and occasionally arguing with the referee's calls as the score mounted against them. By the time the game ended (on a Pierrepont lob out of court after she had been sent to the deep recesses of the back wall by a beautiful Grainger lob), they were in a sour mood, while Sobhy and Grainger were exuberant, brimming with confidence and energy and pressing the action by hammering the ball and daringly going for winners after opening up the court with their pace.
An exceedingly rare double-fault by Krizek undid whatever momentum her team might have amassed by a 5-1 run in which they had gone from 5-14 to 9-14 in the second game and notched the opening point of the third. Grainger and Sobhy pounced on this gift opportunity, sharp-shooting their way to 7-3 and effectively clinching the win with an evenly-apportioned four-point burst (consisting of front-right nick winners from Sobhy, first on a three-wall and then on a backhand inside-out drop, and a pair of winners from Grainger on a forehand cross-court and a razor-sharp reverse-corner) from 9-6 to 13-6. Krizek and Pierrepont would valiantly save three match-balls-against, but their attempted rally ended when, for the fourth time in the game, Pierrepont tinned her usually-lethal straight drop to conclude the 45 minutes of eyebrow-raising but pulsating and highly entertaining action.
The key to the match was clearly the wild ending to the first game, from which Grainger and Sobhy never looked back and Krizek and Pierrepont never fully recovered. Ultimately the firepower and athleticism that the winning team possesses was more than any other team, including their final-round opponents, was able to handle, abetted no doubt by the low-ceilinged University Club venue, which deprives other teams of the lobbing capability which might have been able to blunt the power game that fueled the Sobhy/Grainger march to the winner's share of the record $50,000 purse, the largest in doubles squash, men or women, of the season. In fairness, though, Krizek and Pierrepont prevailed on the same court last season in both their Turner Cup and Players Championship finals, and Sobhy/Grainger's quarters win over McElhinny and Sier had come on the high-ceilinged New York Athletic Club court.
Altogether, four New York clubs (also Union and Cityview) generously made their facilities available for this mammoth four-day event, which was sponsored by Crescent Capital Group, Saratoga Partners, Revlon, Harrow Sports and Glo Professional and which benefited The Breast Cancer Research Foundation, a cause dear to Tournament Chairperson Krizek's heart, in large part due (as she tearfully alluded to in her post-final speech) to her mother's death of this disease at the young age of 47, when Krizek and her sister McElhinny were still teenagers living in their native Australia.
Turner Cup Quarters Recap: McConnell and Edmison Rally From The Brink To Gain Semis

by Rob Dinerman
Dateline

December 11

---- By maintaining both their team solidarity and their resoluteness in the face of a series of daunting deficits, Alicia McConnell and Stephanie Edmison were able to rally to victory this afternoon against third seeds Dana Betts and Emily Lungstrum in the quarterfinal round of the 2010 $50,000 Turner Cup championship, the centerpiece of the WDSA women's pro doubles tour. McConnell and Edmison trailed two games to one and 11-5 (and later 14-12) in the fifth, yet still kept their focus even in the face of some potentially disheartening mid-game points in that fifth game in what turned out to be by far the most closely contested and entertaining game of the quarters, hosted by the New York Athletic Club.
In both the first and third games, the McConnell/Edmison pairing let seeming safe late leads slip away (in the case of the first game, when Betts hit a forehand reverse three-wall that nicked out along the left wall on simultaneous-game-ball) and in the fifth, when Betts and Lungstrum were building their substantial advantage, largely on a series of roll-corner winners from each of them, McConnell, at age 47 by far the oldest player on the court, looked fatigued, while Edmison appeared to be buckling in the face of the left-handed Betts's formidable power. But somehow they were able to conjure up an out-of-the-blue 6-0 run (aided by serve-return errors by each of their opponents) and save that pair of match-balls-against, first when Betts badly tinned an overhead and then when she was hit by the ball when Lungstrum tried to steer a backhand from the back wall into play.
Reprieved by this fortuitous turn of events, the Edmison/McConnell took the first two points of the subsequent best-of-five tiebreaker, lost the next on a Lungstrum reverse-corner winner but finished off the game 17-15 on an Edmison shallow backhand cross-court winner with Lungstrum stuck behind the red line along the right wall. It was the second five-game match in as many days for Betts and Lungstrum, as they had dug themselves out of a two games to love hold in their round of 16 tilt against Canadians Marnie Baizley and Seanna Keating while Edmison/McConnell were prevailing over the Belknap sisters, Lee and Berkeley in what was dubbed the Heights Casino quadrant of the draw, given that five of the eight players (the Belknaps, McConnell, Betts and Lungstrum) are alumnae of that famous structure on Montague Avenue in Brooklyn Heights.
Edmison and McConnell will now face the top-seeded defending champions, Narelle Krizek and Susie Pierrepont, winners in straight sets over Joyce Davenport and Larissa Stephenson, who had reached the quarters with a four-game opening-round win against Lynn Leong and Amelia Pittock. In the draw's bottom-half quarterfinals, 09 Turner Cup finalists Steph Hewitt and Meredeth Quick won in three close games over Philadelphians Dawn Gray and Amy Milanek, who had rallied to a 3-2 (from two games to one down) victory on Friday over Shirin Kaufman and Marie Vlcek, while the former WISPA No. 1 Natalie Grainger, the reigning U. S. Mixed Doubles champion (with Steve Scharff) and current World Junior Singles champion Amanda Sobhy triumphed in four impressive games against Marci Sier and Natarsha McElhinny. After dominating the first game but losing a tin-filled second, Sobhy and Grainger broke open the second half of the third game and ran off and hid in the 15-7 close-out fourth to set up what should be a riveting semifinal match-up tomorrow afternoon, when the action swings over to the University Club, which will also be the host venue for the final, scheduled for Monday night at 6:00. Erlle 10-12 to 15-13, 5-1 en route to 9 and 7. Sobhy 15-7, 15-9 (from 7-all to 13-7) 15-12, up 6-3, down 6-9, 9-9 ball break 12-all, 15-12.
Duncalf Successfully Defends Carol Weymuller Crown By Rob Dinerman




Dateline

October 31st

--- In a daring display of athleticism and dexterity, top seed Jenny Duncalf overwhelmed her British compatriot Laura Massaro 11-6, 1 and 6 Sunday afternoon at the Heights Casino Club in the final round of the 37th annual Carol Weymuller Open. Both Duncalf and Massaro, teammates and silver-medalist doubles partners representing England in the Commonwealth Games earlier this month, were coming off rallying five-game wins in their respective semifinals on Saturday (with Duncalf overtaking Kasey Brown from 1-2 down with an impressive 11-3, 11-6 close-out, while Massaro trailed four-time British Open champion Rachael Grinham two games to love before eventually earning the fifth game 11-4), and as often happens in the wake of such draining route-going semis, the ensuing final can turn out to be anticlimactic, as one player has left his/her best squash on the court by the time the final rolls around.
Certainly Duncalf played the final with much more energy and enthusiasm than Massaro could muster, especially in her 6-0 run from 4-all in the first game that not only sealed that opening frame but provided the launch-pad for what eventually became a 24-4 barrage that carried Duncalf all the way through the one-sided second game and to 6-1 in the third. Massaro lost three quick points (two of them when she tinned attempted counter-drops after being drawn up to the front wall), then seemed to sag for the remainder of that game.
With the first game now safely in her column, Duncalf had the freedom to unleash the full force of her imposing arsenal, both offensively and defensively, pouncing on loose balls, snapping her drives and especially her look-away cross-courts (a play on which she appears to be setting up a drive and then instead wrists a cross-court late in her swing, frequently wrong-footing her opponent), frustrating Massaro by retrieving would-be winners and punishing primarily the front-left corner of the court with wicked angles and soft straight drop shots. Duncalf is more nimble to the ball than almost any player on the WISPA tour, and she maintained a brisk pace throughout her extended domination of the middle portion of the match, while an increasingly beleaguered-looking Marraro was unable throughout that time to dent Duncalf's armor by pulling off a point-winning shot.
She finally was able to break that drought with a nick-finding forehand drop to make the third game score 2-6, then followed with a backhand roll-corner winner and went to 4-6 when Duncalf tinned a forehand half-volley drop shot. Duncalf then scored on a nervy straight backhand drop shot from the back wall, committed a tin but redeemed herself when she ended a cat-like exchange of front-court shots by blasting a ball past Massaro to go up 8-5. Duncalf then was awarded a tough stroke call after Massaro had made a diving get up front, a potential deal-breaker for the latter, who at that stage of the match needed every break she could get. Now trailing 5-9 but gamely fighting for every point, Massaro scored on a cross-drop nick, but Duncalf got to match-ball on a backhand rail that clung too tightly to the left wall for a lunging Massaro to return, then ended the high-quality action barely 30 minutes after it had begun when she terminated a long all-court point (on which Massaro made three desperation retrievals) by gently steering a backhand straight drop that barely climbed over the tin and softly died barely a foot from the front wall. When Duncalf, currently ranked second on the WISPA tour, is as much on her game as she was this afternoon, she is extremely difficult for any of her colleagues to beat, and this tournament ended the way the '09 edition had, with her smiling her winsome smile as she hoisted the permanent trophy named in honor of one of the most popular pros in the history of the host club.



Finals Recap: Jenny Duncalf d. Laura Massaro, 11-6, 1 and 6.




Mudge And Gould Debut By Earning Maryland Club Open Title By Rob Dinerman


Dateline

October 18

--- Convincingly overcoming a minor misstep out of the gate, first-time partners and heretofore arch-rivals Damien Mudge and Ben Gould roared through the draw of the first full-ranking tournament of the 2010-11 ISDA tour season, the $20,000 Maryland Club Open. After narrowly dropping an opening-game tiebreaker in their quarterfinal against '09 Wilmington Challenger winners Chris Walker and Mark Chaloner (who then took a 7-4 lead in the second), Mudge and his Australian compatriot Gould proceeded to win nine straight games, culminating their three-match path to the championship with a 17-16 15-8 15-11 final-round victory over third seeds and two-time (in 2006 and 2008) Maryland Club Open finalists John Russell and Preston Quick. It was the fourth time that Mudge had won this event (preceded by his run from 2003-05 with Gary Waite, the inaugural editions of the tournament) and the third for Gould, who had successfully teamed up with Paul Price in '06 and '08 before this site took a one-year hiatus last season in deference to Baltimore's hosting of the U. S. National Doubles championships this past March.
The high-paced Mudge/Gould vs. Walker/Chaloner slugfest, by far the highest-quality of the four quarterfinals, contrasted with the tone of the subsequent top-half semi, in which fourth seeds James Hewitt and Greg Park tried (with some success in getting to 8-all in each of the first two games) to slow Mudge and Gould down by lobbing them to the back-court and shooting when the opportunity presented itself. But Mudge and Gould were able to pull off quick spurts to draw ahead late in both of those games and dominated the close-out third. Hewitt and Park had advanced with a solid four-game win over the Boston-based pair of Greg McArthur and Dan Roberts, who in the last round of qualifying earlier in the day had trailed Philly Country torch-bearers Imran Khan and Nigel Thain 13-6 (and 14-12) in the fifth before finally coming through 17-16 when Thain tinned a drive on simultaneous-match-ball.
In the bottom half, Quick and Russell split the first two games of their opener against recently-ensconced Pittsburgh Cup Challenger winners Jonny Smith and Raj Nanda before asserting themselves in the last two games. They then faced second seeds Matt Jenson and Clive Leach (3-0 first-round winners over qualifiers Eric Christiansen and Graham Bassett), with whom Russell and Quick had conducted a year-long "shadow rivalry" throughout the 2009-10 season, during which these two tandems never met head-to-head, by virtue of always being in opposite halves of the draw and never BOTH winning their respective semis. Jenson and Leach had been Kellner Cup finalists last spring, while Russell and Quick had been ousted in the quarters, and Quick had been forced to rest his ailing elbow during most of the intervening summer.
He and Russell fell behind 18-17, 17-16 (with both games ending on last-point winners by Jenson, the first when his three-wall took a wildly erratic bounce past Quick and the second on a tight reverse-corner) but, with Russell/Quick up 13-12 in the third, a backpedaling Jenson (who was trying to clear for a Leach lob that wound up out of court for 14-12) got his feet locked up with Russell's, hyper-extending Jenson's right knee as he fell to the floor and visibly limiting his mobility from that point onward. This unexpected and match-changing development put an even greater urgency on the end-portion of that third game, and when Quick and Russell escaped with a 15-13 tally, they were essentially home free, winning the fourth game more comfortably and moving out to 3-1 in the fifth as well. By this time, Leach was having to cover much of the entire court as Jenson was becoming increasingly and worryingly constrained, to the point that at this juncture early in the fifth, not wanting to exacerbate Jenson's injury with a busy fall tournament slate looming, the team accepted the inevitable and defaulted, an anticlimactic ending to the first of what figures to be many exciting battles between these closely matched duos.
The Sunday-afternoon final was witnessed by a packed gallery whose number included most of the participants in a concomitant six-man Legends Of Squash singles tourney that was won by Peter Nicol in a four-game final over John White. Several of the singles players, including the England-based trio of Nicol, David Evans and Simon Parke, lamented afterwards that their flight back to London was scheduled to depart too soon after the doubles final concluded to permit them to try doubles squash themselves, as they clearly would eagerly have done had time constraints not prevented it.
Quick and Russell played so well and so hard during the seesawing first game against Mudge/Gould that they HAD to have that game in order to realistically have a chance to win the match as a whole. They saved several game-balls-against to get to two-all, set-three, but on the ensuing simultaneous-game-ball, a long rally marked by almost universal blasting finally left Mudge with an open forehand front-left drop shot with Russell and Quick both too deep in the court to have any possibility of running it down. Reprieved by this fortunate but fully deserved turn of events, Mudge and Gould galloped off to a 13-5 advantage in the second and never relinquished control during the close-out third. Having now emphatically lived up to everyone's expectations in their opening salvo of the season, Mudge and Gould have a week off to reload for the consecutive-weeks St. Louis and Big Apple Open stops that take place starting on Halloween weekend.


Smith And Nanda Capture 2010 Pittsburgh Cup By Rob Dinerman


Dateline

October 12

--- Trailing two games to one against an upset-minded pair of power-hitting youngsters, top seeds and first-time partners Jonny Smith and Raj Nanda strongly rallied to a five-game victory over many-times U. S. Junior national champions Trevor McGuinness and Todd Ruth this past Sunday afternoon at the Pittsburgh Golf Club in the final round of the second annual Pittsburgh Cup. It was Nanda's second Challenger title (preceded when he and Mark Price defeated Imran Khan and Tom Harrity in the St. Louis final last November) and the first for Smith, who in his only prior Challenger-event appearance (in Wilmington last December) teamed with former Trinity teammate Yvain Badan to take a two games to love final-round lead over Chris Walker and Mark Chaloner, only to eventually fall 17-16 in the fifth.
It appeared for quite a while that a similar final-round disappointment might await Smith this time as well when he and Nanda dropped the third game. McGuinness, who combined with Whitten Morris to win the 2008 and 2009 U. S. National Doubles, and Ruth found the warm host courts greatly to their liking as they overpowered first Jacques Swanepoel/Eric Christiansen and then the Toronto duo of Eric Baldwin and Tyler Millard, first-round four-game winners over Will Mariani and Rob Dinerman. There were close games in each of this pair of straight-set matches, with McGuinness primarily coming up with the needed end-game winners.
His southpaw power and shot-making skills also came to the fore in the first and third games against Smith and Nanda, who had received a bye to the semis of the seven-team field due to their top-seeded status and then survived a competitive four-game challenge from the Khan brothers, Asad (making his ISDA debut) and Imran. The latter's shot-making accuracy keyed his team's victory in the second game before Smith and Nanda asserted themselves in the subsequent two games. Both in that Saturday-evening match and in the next-day final, Smith and Nanda were able to make the necessary mid-match adjustments and eventually win going away. The fourth game of the final was 15-9 and the fifth an even more dominant 15-4, as Smith showed why he is the highest-ranked player in the draw (at No. 14) and Nanda started lobbing their opponents to the back of the court, disrupting their fast-pace-oriented rhythm and eventually eliciting enough loose balls and errors to give his team a comfortable margin.
McGuinness, currently a junior at Penn, and his Philadelphia co-denizen Ruth, a first-year Penn medical-school student after serving last year as team captain at Yale, will clearly be heard from in upcoming ISDA competition, while Nanda and Smith hope to carry the momentum they generated in Pittsburgh into their first-round match-up this Friday in Baltimore, the first full-ranking tournament of the 2010-11 season, where they will face the third-seeded tandem of John Russell and Preston Quick, Maryland Club Open finalists twice in the past four years.


Harrity Wins Pan Am Fed Trials Final, Earns Spot On U. S. Squad

By Rob Dinerman
Dateline

September 12

--- In an immaculate display of court coverage, execution and focus, Princeton sophomore Todd Harrity overwhelmed Graham Bassett 11-2, 2 and 3 Sunday afternoon at the Sports Club/LA in Manhattan in the final round of a U. S Squash-run tournament to determine the fourth and final spot on the national men's team that will compete in the Pan Am Federation tournament in Guatemala this coming November. Harrity, who thereby completed a three-match weekend in which he never came close to dropping a game, will now join reigning six-time U. S. National champion Julian Illingworth, Gilly Lane and Chris Gordon on what should be a powerful American squad, especially with 2001 British Open finalist Chris Walker serving as head coach.
Bassett, who showed great perseverance Saturday afternoon in fending off a third-game match-point against him and a late fourth-game deficit as well and overtaking Dartmouth star Chris Hanson, was clearly affected by the grueling nature of that comeback win, yet he valiantly retrieved, pounded his powerful drives and never gave up --- that he nevertheless was unable to muster more than that septet of points was totally a function of the relentlessly pressuring excellence of Harrity's play. His backhand rails are consistently tight to the wall, his front-court game is solid and improving, his positioning and ability to accurately read what his opponent is about to hit is truly noteworthy, and he glides seemingly effortlessly to virtually everything that is hit. There was nothing Bassett could do to hurt Harrity or to dent his comfort zone, and Harrity would inevitably force a loose ball that he would then exploit with high-percentage and penetrating salvos that eventually would present him with yet another point to throw onto the pile.
By midway in the third, Bassett was forced by both his growing deficit and his opponent's ubiquity to try risky shot-attempts, several of which boomeranged in the form of tins and stroke calls against him, as Harrity moved from 5-2 to 10-2, capping matters off two points later with a backhand cross-court volley that he guided directly into the front-right nick. Bassett had had a wonderful tournament, defeating first his mid-2000's Penn teammate Lee Rosen (who had played No. 2 behind Lane during his collegiate career) three-love and then engineering that gutsy rally from near-oblivion against Hanson. But he finally hit the wall against Harrity, who fully deserved the team placement he now has won, and who by all odds will be an extremely valuable member of the U. S. entry two months hence.
There was also a women's five-person round-robin tournament to determine who will join Natalie Grainger, Amanda Sobhy and Olivia Blatchford on the women's Pan Am Fed squad. Recent Penn grad Kristin Lange went through her four matches (against Hope Prockop, Hayley Mendez, Katie Tutrone and Maria Elena Ubina) without losing a game. Prockop placed second, winning each of her three non-Lange matches three games to love.
Finals recap: Todd Harrity d. Graham Bassett, 11-2, 2 and 3.


Bassett Rallies, Will Face Harrity In Pan Am Fed US Playoff Final
By Rob Dinerman
Dateline

September 11th

--- Trailing two games to love and facing a match-point against him in the third game and a 9-7 deficit in the fourth, Graham Bassett courageously rallied to a 10-12 7-11 12-10 11-9 11-4 victory Saturday afternoon over Dartmouth sophomore and No. 1 player Chris Hanson in the semifinal round of the U. S. Squash-sponsored tournament to determine the fourth and final spot on the U. S. Men's team that will compete in the Pan Am Federation Cup event in Guatemala this November. In the final of this Sports Club/LA event on Manhattan's upper east side, Bassett will face Princeton sophomore and No. 1 Todd Harrity, who convincingly out-played Yale senior John Fulham in the other semi by a score of 15-5, 7 and 1.
Fulham's three-love quarterfinal win over 2000 Intercollegiate Individual finalist Tim Wyant, a two-time member of U. S. Teams in the biennial World Team Championships (in Melbourne in 2001 and in Vienna in 2003), had seemingly put him well positioned to challenge Harrity, but the latter, who in the past six months has been a finalist in both the Intercollegiate Individuals and the mid-July World University Games, was much too solid and severe and he relentlessly asserted himself throughout their 33-minute encounter.
It looked for quite a while as though he would be facing his World University Games teammate Hanson in the final, especially when the left-handed Hanson, after rallying from 8-10 in the first game to a tiebreaker win and then moving well ahead in the second, made another charge late in the third from 3-7 to 10-9, match-ball, on the third stroke call against Bassett in a four-point span.
But early in the following point, Hanson had a stroke call made against him when he got trapped by a wayward forehand, following which Bassett nursed a backhand straight drop (a shot he had been tinning to that point) for a winner, then quickly collected the ensuing game-ball point when Hanson impetuously lashed a serve-return cross-court into the tin.
Again in the fourth Bassett jumped swiftly ahead (5-0), again a prolonged mid-game Hanson rally put him ahead at 9-7, and again the closing stretch went to Bassett, who seized all the momentum from 3-all in the fifth, surging to an 8-1 match-closing run over an increasingly visibly tiring and deflated foe, who by the end succumbed to errors and Bassett's aggressiveness.
There is also a women's tournament for the final spot on the Pan Am Fed squad. Natalie Grainger, Amanda Sobhy, Olivia Blatchford and Latasha Khan will represent the U. S. in the Worlds event in New Zealand in December, but Khan has opted not to play in Guatemala. The five-player round-robin has been dominated so far by former Penn star Kristin Lange, who hasn't dropped a game in the matches she has played.
The men's final is scheduled for 3:00 Sunday afternoon.
Men's Qtrs:

Todd Harrity d. Kyle Gens, 11-3, 2 and 5; John Fulham d Tim Wyant, 11-3, 9 and 3;
Graham Bassett d Lee Rosen, 11-6 13-11 11-7; Chris Hanson d Ned Marks, 11-7, 8 and 8.
Semis:

Harrity d Fulham, 11-5, 7 and 1; Bassett d Hanson 10-12 7-11 12-10 11-9 11-4.
*About Rob:

Biography


*Links:

Northshire Books

DailySquashReport.com


*E-Mail Rob

Copyright © 2012 Rob Dinerman